What is Krav Maga?
Krav Maga literally means "Combat – Contact" fighting for survival up close and personal. The roots of modern Krav Maga began with the need for self-defence in the land of Israel.
Krav Maga has no single "founder" and no official beginning, but when Europe became unbearable for Jews, Imi Lichtenfeld left the country and eventually ended up in the land of Israel in 1942, then controlled by the British and began to incorporate techniques from different styles to form an effective approach to self defence to enable the Jewish community to defend itself against Fascist militias.
Krav Maga is designed for self-defence, combat, and worst case scenarios for men and women of all ages and from all over the world.
College students, House wives, International Travellers, Businessmen, Doctors, IT people, law enforcement, Military and Special Forces.
Krav Maga (IKI) is free flowing; all styles of punching, kicking, chokes, take-downs are employed with the aim of neutralizing the enemy in the shortest amount of time possible. It is for average people who does not possess strength , speed & precision.
The style is easy to learn and apply. Krav Maga (IKI) chooses simple movements that are natural to the body, based on instincts that are already established within us.
"Krav Maga is a Self Defence Technique and not a Martial Art which can be easily learned and practiced in shortest time."
Principles of Krav Maga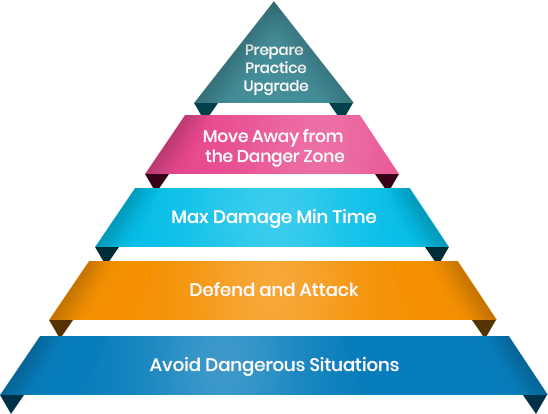 Difference Between Krav Maga & Martial Arts

Krav Maga is Self-defence with real life saving techniques
Krav Maga basic defence can be learned in a day
Krav Maga on street does not have any fighting rules
Krav Maga is for any one and every one irrespective of gender, size, and weight.

Martial Art is sports
Martial Arts need years of practice
Martial Arts in Ring has rules
Martial Art is for selected agile people